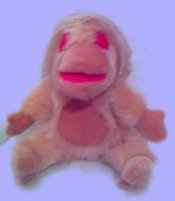 Hello! I am Edu the Ettin. I was a gift from Alien to N1.
'Cause it was quite boring to just sit around in N1's room, I'm doing something useful now.
I guide visitors through the three steps of EasyGMS.

EasyGMS is the genetic service usable by everyone. You can configure different attitudes of your creature and download it as a simple to use Agentfile for your Creatures 3 or Docking Station egg maker.

To make everything as easy as possible, I will explain every option.
If you want to tweak more traits of your creature, it is possible to continue after the three steps of EasyGMS and modify absolutely everything you want in LiveGMS, the fully featured online genetic editor. Sadly without me then, since I am only responsible for EasyGMS.